Cahoon Family Web Page
Tim and Nancy Cahoon live in Southfield Michigan with their 4 children, Jessie, Ted, Pat, and Stephen and the families two cats Matilda and Mocha.
Nancy is active in Girl Scouts with Jessie.
Tim is the Cubmaster for Pack 1672 (chartered by VFW Post 2645) with the boys. He also dabbles in WATER ROCKETS belonging to AWARS (Actually We are Rocket Scientists) on the WEB. He is also becoming a Halloween junkie


Halloween 2000 Pictures
(this link will take you to horrorseek.com)


Idea for Halloween 2002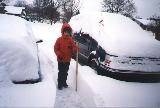 January 1999 started with LOTS of snow unlike January 2000



Grandma launching a Water Rocket
AWARS, Actually We Are Rocket Scientists

Some of my Favorite Places

All material on Cahoonfamily.com the copywrite of Tim Cahoon and the Cahoonfamily.com, Cahoonfamily.org, Cahoonfamily.net websites.