Halloween 2001 Haunted Yard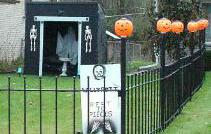 This years Haunted Yard featured a Crypt with a Phantom Flyer crank ghost and lots of skeletons. The Pumpkin light fence is even bigger and goes into part of the neighbors lawn. I added another 70 feet of fence complete with ToyGuy skull whistle finials. I know have about 160 feet of fence, all lit with Pumpkins on top of the posts. (The fence is made with 1x2's and 1/2" PVC pipe. Lots of people thought it was a real cast iron fence.)
Our yard was used as a backdrop for TV Channel UPN 50 and CBS 62 news (10pm & 11pm respectively). UPN 50 had the anchor in front of our tree and for CBS 62 she was in front of the Crypt.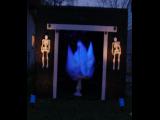 The Crypt of Jacqueline the Ghost
The Crypt Files
MPEG Movies of Jacqueline
These are three mpeg vidoes my friend Jim Russell (who took all these pictures) made using his Sony Macvia Camera as a test. The first one (Daylight) is the best. Dusk is pretty good as well. However the Dark-Glowing moving is very dark and it can be hard to see the blue glow of the ghost. All the files are about 1.32-1.34 megs in size.

Daylight Crypt
1.3meg

Dusk Crypt
1.3meg

Dark Glowing Crypt
1.3meg
The thumbnails on this page were generated by the evaluation version of ThumbsPlus. My favorite Thumbnail and Picture program.
All material on Cahoonfamily.com the copywrite of Tim Cahoon & the Cahoonfamily.com, Cahoonfamily.org, Cahoonfamily.net websites.